On behalf of Maastricht School of Management and the HPO Center I visit countries all over the world. Not only "privileged" countries like the US, UK or Germany, but also many third-world countries. Visiting students and executives in these countries gives me enormous energy. Emerging markets and ambitious people. Countries like Namibia.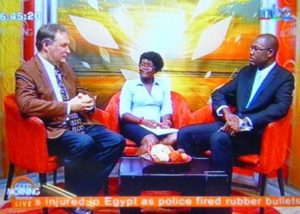 Last week I visited the
Namibia Business School (NBS)
. Together with Mac Hengari, Director of the Namibia Business School (NBS), I signed a co-operation agreement between the NBS and the HPO Center to improve the long-term performance of many organizations in Namibia. Together we are going to help organizations to benefit from our
High Performance Organization (HPO) Framework
.
After giving several presentations on national television, I gave a lecture about HPOs and Performance Management for Namibian directors and senior managers. The energy, ambition and critical and imaginative questions from the audience gives me great hope that this co-operation will strive organizations towards long-term high performance!
And I know the HPO Framework works not only in Europe, US or Asia. Previous visits and HPO-diagnosis with e.g. Iringa University College in Tanzania and De Beers Marine in Namibia show promising results.