If your organization—or even just a specific department—is targeting continuous improvement, better teamwork, or elevated performance, the first step is understanding your current standing. You need to know how you measure against the five key success factors of High Performance Organizations (HPOs). Achieving or maintaining the status of an HPO comes with a range of benefits for everyone involved: the organization, the customers, and the employees.
Customer Focus: An HPO is invaluable to its customers. The primary goal is to boost customer value and satisfaction.
Employee Engagement: Aiming for high performance re-energizes your team. It leads to increased job satisfaction as HPOs concentrate on what genuinely drives organizational success. It's not a new project; it's a new mindset and approach to work.
Adaptability: An HPO is designed to evolve. It thrives in our ever-changing, competitive world, making your organization more resilient and future-proof. This is achieved through ongoing adjustments, learning, and improvements.
ARE YOU READY TO TRANSFORM YOUR ORGANIZATION INTO AN HPO?
It all starts with insight, obtained through an HPO diagnosis. This diagnosis shows you how your organization scores on the success factors of High Performance Organizations. You will also receive practical development points (improvement themes) that can be tackled by managers and employees together. The HPO diagnosis acts as a mirror, in which you honestly look at your organization (or part of it) and yourself: how far are we on the path to becoming an HPO? It helps you identify the 'hard nuts to crack': the focus areas that need to be addressed to realize your strategy and become an HPO. You determine your current level (the starting point) and use this as a basis to measure the effectiveness of the HPO transition. It also strengthens the 'sense of unity' within your organization: by identifying and addressing shared, supported improvement themes.
What do the executive teams of competing firms actually compete on? Not on their firm's products and services, that is the company's output. In fact, executive teams primarily compete on the quality of their insights about their own organization. The first basis of competition between executive teams is the understanding of what really happens in their organization.
EXAMPLE STEP-BY-STEP PLAN HPO DIAGNOSIS TRAJECTORY (DURATION UNTIL STEP 8: 6 – 12 WEEKS)
Step 1: HPO workshop for inspiration (virtual or onsite)
Step 2: Planning and creation of the online HPO-questionnaire (35 items) and guidance (available in 15+ languages)
Step 3: Online HPO scan (filling in the questionnaire will take a maximum of 10 minutes)
Step 4: HPO analysis of the scores done by our HPO Experts and your the HPO Coaches (trained by our HPO Experts)
Step 5: In-depth interviews (the findings of our analysis make up the basis for interviews conducted by the HPO Center in conjunction with the HPO Coaches)
Step 6: Creation of the overall HPO profile of the organization and section-HPO-profiles of the underlying units
Step 7: Overall Feedback and unit-workshop(s) with conclusions and recommendations facilitated by the HPO coach and the HPO Center
Step 8: Action-workshops with managers and employees (done by the internal HPO Coaches you've selected, who have been trained by our HPO Experts)
Step 9: Monitoring of progression in HPO improvement-course by HPO Coaches in cooperation with our HPO Expert
Step 10: In order to follow developments and achieved results, a second HPO Diagnosis is performed 1.5 to 2 years after the first HPO Diagnosis (to be discussed)
What we thought we bought: a change initiative, a methodology and an answer to our problems. What we actually got: a framework for change, a common language and something to get behind. What did it feel like: uncomfortable at the start, connecting & satisfying and a boost in performance.
The main reason for starting an HPO Diagnosis is management's strong wish for the organization to excel. In addition, there are quite a few other reasons for starting the HPO-diagnosis.
Click here for a list of eight of these reasons as given by the clients of the HPO Center.
"I met André in 2007 when I was engaged in a major turnaround. The HPO methodology provided a perfect means of benchmarking where we were, telling us what good looked like, the things that we really needed to focus on, a target to aim for and the means to measure our progress – excellent. On a personal basis I really enjoyed working with André, bright, perceptive and always challenging – always adding further polish to the HPO Diagnosis!"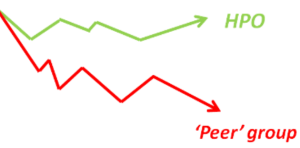 Benefits of the HPO Diagnosis
But what are the benefits of applying the HPO Framework? Since the first publication on the HPO Framework in 2007, many organizations worldwide have worked with the HPO Framework, and many new research studies have been based on the framework. This made it possible to evaluate the financial and non-financial benefits that applying the HPO Framework can bring to organizations. These benefits consists of the following:
A better employee attitude. Employees feel and take more responsibility for improving the organization's products, services and processes. They take more initiative and the degree of innovation increases. More new products and services are brought to the market place, in shorter time spans. There is also a more positive mentality and higher engagement.
Better cooperation inside and outside the organization. Employees cooperate more and better, both internally with colleagues of other departments as externally with suppliers and customers. They are more open to ideas from other people and they see themselves as part of an organizational value chain which has to function effectively along all its links. There are better and more frequent dialogues between managers and employees, and also between organizational units.
A better organization. The organization has a more unique strategy compared to its peer group. This uniqueness can be found either in the content or the execution of the strategy, and often in both. This sets the organization clearly apart from its competitors, which raises its attractiveness to new customers and potential employees. There is more focus and discipline. Employees also feel a strong corporate social responsibility. This makes that the organization enjoys a better reputation both in the business community and in society in general.
Better financial results. The above mentioned non-financial benefits translate into clear financial benefits. Productivity increases as the same people do more, with more success. Profitability also increases as costs are lower and turnover is higher. As a consequence, as the organization rises towards the top of the sector, its market share keeps on growing. Finally, as costs and budgets are better under control, the financial situation of the organization improves and stabilizes.
Competitive advantage. Achieving higher HPO scores means better financial results, and when the organization achieves the highest average HPO score in the sector it also has the best financial results in comparison with its competitors. The same is true for organizational units when these are compared to each other: the units with the highest average HPO scores also have the best financial performance of all the units, and vice versa.
"We found the HPO Diagnosis process to be incredibly valuable. The study showed not only what makes Archway great but we also now have statistically valid Attention Points to work on that tie back to the Five Pillars. This needs to become an annual benchmarking process for all organizations striving to become and remain high performing. Dr. de Waal's definition of a High Performance Organization should be the world-wide standard."
"HPO has the advantage of being highly practical and easy to implement. Thanks to the HPO-diagnosis you can quickly tell what to do in order to improve performance. It is a methodology that properly puts a finger on the issues."