A small gift for you as a HPO-fan:
"Finally, a book that goes beyond "promises" but gives greater clarity about the essential contributing factors of high performance organizations. This pioneering work of Dr. de Waal is a must read for people interested in this subject."
Manfred F. R. Kets de Vries, Clinical Professor of Leadership and Organizational Change at INSEAD and The Raoul de Vitry d'Avaucourt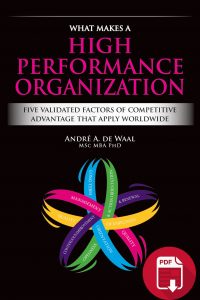 Chaired Professor of Leadership Development, and one of the world most influential thinkers
"This book is in the tradition of 'In Search of Excellence' and 'Good to Great' but with evidence and examples from across the globe. It contains a lot of wisdom, and it is written in an engaging style. Well done, André de Waal!"
Kenneth A. Merchant, Deloitte & Touche LLP Chair of Accountancy Marshall School of Business, University of Southern California and author of 10 business books
"The HPO methodology provided a perfect means of benchmarking where we were, telling us what good looked like, the things that we really needed to focus on, a target to aim for and the means to measure our progress – excellent."
Huw T. Owen – President, BT Global Health
ORDER 'WHAT MAKES A HIGH PERFORMANCE ORGANIZATION' ONLINE OR AT YOUR BOOKSTORE
---
Also visit our HPO Insight™ Improvement Tool website!