In these dark Corona times, there is one bright spot: the attention organizations have paid to create and safeguard togetherness and solidarity among its people. During a telephonic tour of our relations – organizations that are working on an HPO transformation – we heard many examples of beautiful things happening that create and strengthen togetherness and unity. We would like to share with you what activities these organisations are developing to deal with the Corona epidemic, so that you can also take advantage of these ideas: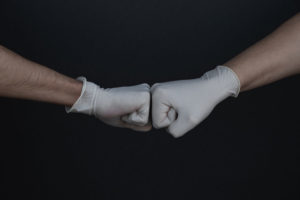 The most important activities now are communication and dialogue: these are intensified in both content and frequency. Organizations that held a daily physical stand-up early in the morning now do that virtually, and still do this every day. And you see organizations that did not or irregularly do this now conducting this type of meetings a few times a week or even every day. In those meetings it is first about the health of the participants, and then about work – which now mostly takes place at home – and what goes well and what is difficult. We also see that there are weekly updates on how the organization and its customers in general are doing. In addition, there is a lot of mutual virtual contact during the day. This keeps employees informed and creates a lot of clarity, and unrest is removed. Moreover, people stay well connected with each other and a feeling arises that "together we will get through this crisis".
We get to know each other better, because we see each other via skype in our private / home world. Sometimes a dog or child passes by during the online meeting. That doesn't really matter, because we notice it is increasingly easy to get to the core of things online. So our discussions are much more efficient and fruitful!
Organizations are starting to collect examples of HPO behaviours, shown by their employees both toward each other and toward customers and suppliers. This is not only important because it allows sharing 'best behavioural practices', above all this inspires people and gives them hope. Moreover, when we are still in this dire Corona situation in a few weeks' time, it will be important to regularly highlight these examples, in order to keep courage.
Organizations accelerate the 'home automation' of their employees. Long-term projects in this area that have often dragged on for ages are now gaining momentum as people recognize the importance of staying connected. This creates new ways of working that have a good chance of being maintained after the crisis, because they increase efficiency. It seems that many people already experience that online communication does not mean loss of contact or depth in relations.
We all know that 'think first then act' is important, but in daily practice we were above all doers who took too little time to think. Now you see people first reflect on their actions, what they want to achieve with them and what the risks are, before actually taking action. But after reflection immediate and decisive action is taken because people know that those actions are well thought out … and they find out that they are more often more successful.
"What do we want to be as an organization?" "For whom do we do what we do?" Questions and dialogue about the long-term vision of the organization are of great importance right now. If employees are very clear about why they get out of bed every day to work for your organization, and if customers know what your organization brings to them and therefore are fans of your organization, then that gives hope for the future.
You see people in organizations spontaneously looking at which functions they can easily take over from others if colleagues have to drop out. For example, functions you did earlier in your career.
You hear it continuously in the news: it now appears that when it really comes down to it we can be quite flexible. Of course, everyone has to go through the first shock, and flexibility is almost impossible in some sectors. But there are plenty of examples of organizations that have already come up with new ways of working, and offering services and products. Although forced out of necessity, it is nice to see that apparently we can change quite a bit if we have to. There is more creativity and innovation than ever before.
What quickly becomes clear within organizations is the degree of trust that is present. In our circle of friends, we still hear examples of employers who, despite the advice not to, want everyone to work in the office. Why? "Then we can see what is being done", the answer is (true story!). Trust is very important to be able to work well together. Of course, for many people the discipline of working from home is a challenge. However, as an organization you must dare to give your employees confidence, especially in these unique times. And giving them clear frameworks with regard to what is expected of everyone in this situation will help them adjust to the often new situation of working at home for a prolonged period of time.
Finally, something that we currently hear not from organizations but from the government: make decisions based on hard data. We call this evidence-based management. You don't make important decisions on the basis of "I think …" but based on hard data. Science shows that people often overestimate themselves when it comes to emotions: their intuition and gut-feeling. First track down the numbers, then enter into a dialogue with each other and subsequently make the right decisions.
Undoubtedly more examples and ideas will surface in the coming days and weeks.