The Uganda Financial Institutions Model for HPO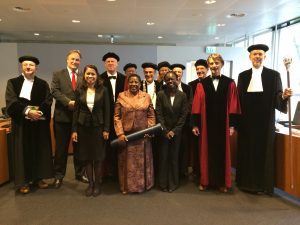 On November 24, 2015 Janatti Kyogabiirwe Bagorogoza became the first person to get a PhD on the HPO Framework. Congratulations, well done Dr. Janet! Janet Bagorogoza started her studies at the Maastricht School of Management with Dr. André de Waal. After obtaining the MPhil degree at MSM Janet transferred to the PhD School of Tilburg University, where she was supervised by promotor professor dr. Jaap van den Herik and co-promoters dr. André A. de Waal and dr. Bartel Van de Walle.
In the preface of her thesis Janet described the rationale of doing her PhD study: "The idea to write a PhD thesis emerged out of my ambition. I had encountered several employees in the financial institutions in Uganda, who were always hesitant to explain the many products offered by their institution. For an adequate explanation they needed to consult their managers. I realized that there was a missing link in the operations of the institutions. This needed to be addressed and improved. I dreamed of an improvement up to the level of a high performance organization (HPO). A discussion with Dr.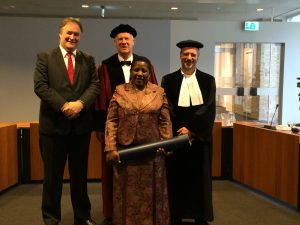 A.A. de Waal convinced me that HPO could be the way forward for financial institutions (FIs) in Uganda. The value of knowledge management (KM) and its impact on high performance are a subject of debate and controversy in theory and practice. The knowledge-management behaviour has been found to be a key issue in performance improvement. Currently, we assume that knowledge obtains its value through adequate management. The better the management is, the better the knowledge. This idea may result into high performance. However, there is still a lack of coherent theoretical explanations on how the HPO framework influence high performance. This study used knowledge-based theories to develop and test a process-level model of the HPO framework, knowledge management, and high performance, which we call the UFI Model for HPO. We operationalised our model in the financial institutions in Uganda.(UFI means Uganda Financial Institutions.) The findings of our research revealed that (1) effective knowledge management could lead to improved performance and (2) this performance could be sustained if managers adopted the UFI model for HPO. We establish that Knowledge Management mediates the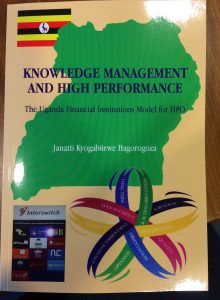 relationship between the HPO factors and high performance."
For more information about the HPO Framework, HPO Diagnosis, our lecturers, HPO Experts, workshops and Master Classes, please contact us (vink@hpocenter.com or T. +31 (0) 35 – 603 70 07).